Mark Stevens 1967 Cutlass Supreme

Carolyn

Dedicated to My First Oldsmobile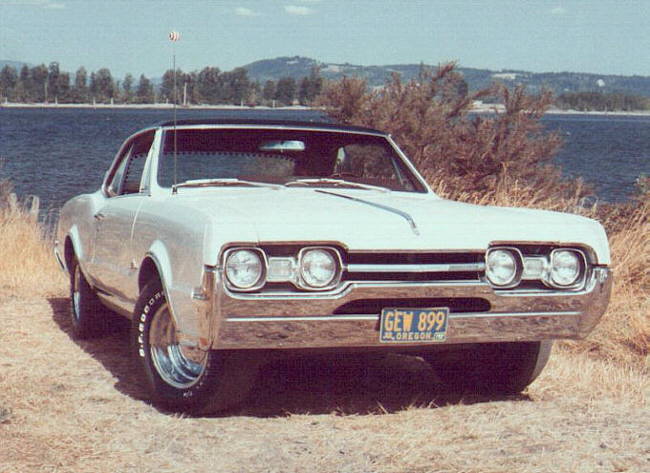 My First Oldsmobile "Carolyn" was a 1967 Cutlass Supreme with a 330 V8. Purchased for me in the summer of 1971 by my folks, for painting their house. The above and below pictures were taken in 1973/74 after I had "customized" the car with Appliance Smoothie Chrome Wheels with BFG TA's, and especially notice the Red White and Blue "dingle balls" around the rear window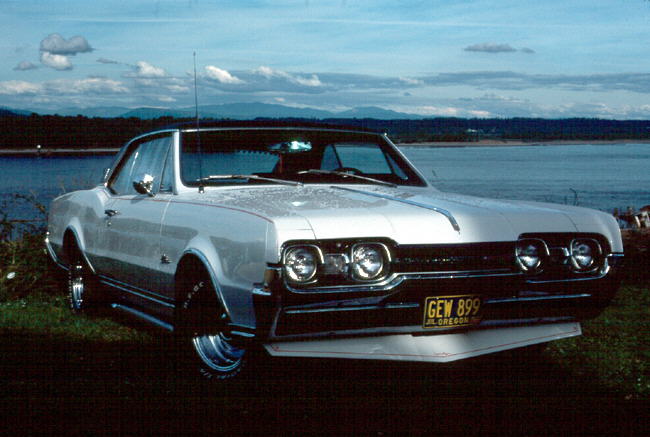 Carolyn parked below the house (Columbia River in background)
notice Sidepipes and airdam circa 1976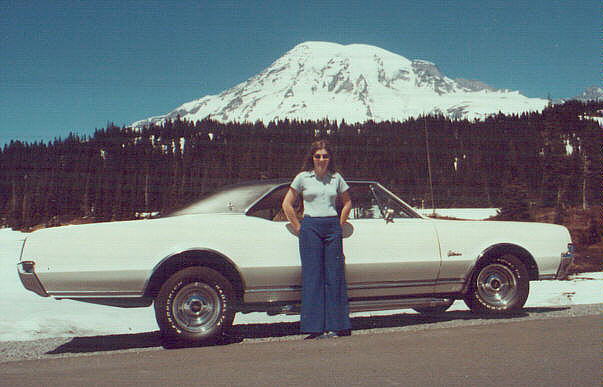 Glorene and "Carolyn" at Mt. Rainier back when air shocks were in.

Below is Carolyn today, getting ready for a total cosmetic restoration. Somewhere around 1977 I bought a '66 442 and removed and rebuilt the 400 CI Engine and put it in the '67. At the same time I added new 442 Springs, Torsion Bars and a Turbo 400. As you can see I am in the process of striping the paint off. Actually this is an old photo as I have already removed the interior less the dash and drivers bucket seat and have stripped the rest of the paint off. I would like to recover the interior in red leather and put a decent stereo in. I would also like to add a posi rear and some 16" wheels and tires to top off the restoration.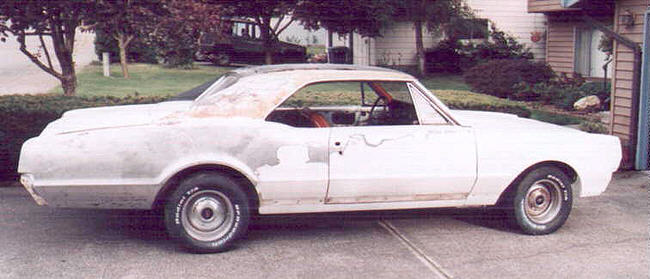 I've been stalled for years now on finishing the restoration. I have now purchased a 2nd '67 Cutlass Supreme for it's rust free sheet metal and I am about to get rolling again.
You can watch the progress of the transformation here.
By the way if you were wondering where the name Carolyn came from, it is because that was what my parents would have named me if I had been a girl. Since guys always seem to give their cars girls names, I decided to name it Carolyn. Consequently my wife and I also named our daughter Carolyn, so that my mother finally got her Carolyn.

Specifications - Engine: 1966 442 400 CI, 400 Dyno HP, Hedman Headers, Holley Spreadbore
Transmission: 1966 Buick GS Turbo 400 w/TransGo Shift Kit
Wheels/Tires: 14X7 Appliance Smoothies with 245x60x14 BFG T/A's
Rearend: 10 bolt non-posi 3.07 ratio
Interior: Red Buckets w/console
Performance: Stopwatch approximate: 0-60 5 seconds, 0-100 10 seconds -
---
----- Back to Mark's Oldmobile Page -----

Page & Pictures copyright Mark W. Stevens