Mark Stevens and his Families 1962 Super 88
This was the First Oldsmobile I really Drove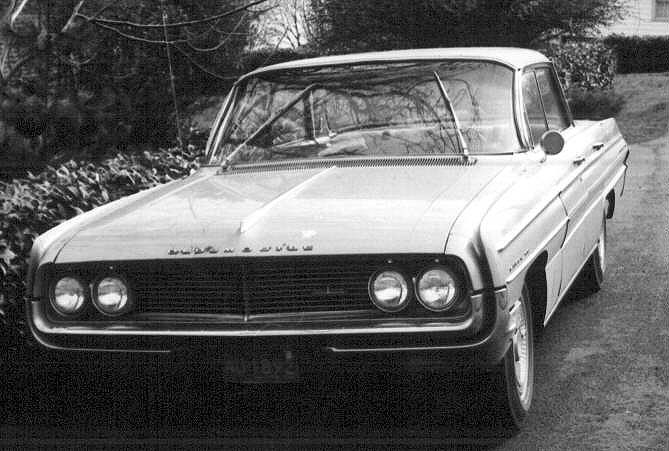 The '62 just prior to selling it.

This is the car that I learned to drive in. Actually the first time I "drove it" was when my dad gave me the keys at age 12 and told me I could put it in the carport. My friend Michael and I piled in and started it. I put it in drive and started forward. Thinking I was moving to fast I hit the brakes, or what I thought were the brakes. Instead I hit the gas and accelerated the big block Olds right into the porch. The impact was so hard that it knocked the dishes out of my mom's cupboard. I destroyed the steps and wrought iron railing too. Believe it or not the only damage was a dent on the hood between the "Old" and the "smobile" which is still visible in the top photo.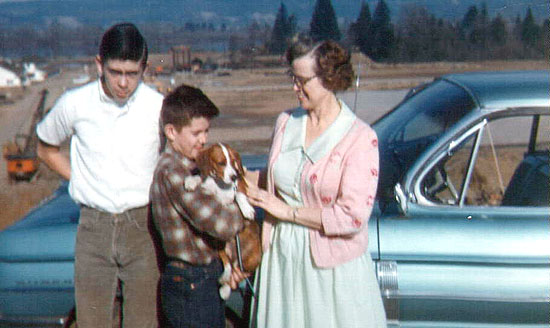 My brother Dennis, Me, Fritzi, and Mom in about 1964. I really loved that color.
My brother Dennis taught me to drive in this car. My dad had taken me out to learn how to drive, but when he asked me to try and stop next to a mailbox and I overshot the spot by about 50 feet, he decided that my brother ought to be the one to teach me. I will never forget the first corner that he asked me to take. It was a left hander down by the sawmill and I made this enormous wide arc onto the gravel shoulder. Dennis was a very patient teacher and had me driving in short order.
For many years after we sold the car I used to see it parked on the streets of Portland, Oregon thirty miles from my home. I used to take my wife to be to go see it. It will always have a special place in my heart. It is also the first car that I memorized it's license plates "4U 1892". It is a number that I will never forget.

-----
Back to Oldsmobile Rocket Page

Page & Pictures Copyright Mark W. Stevens